What's it like to train with the NFL?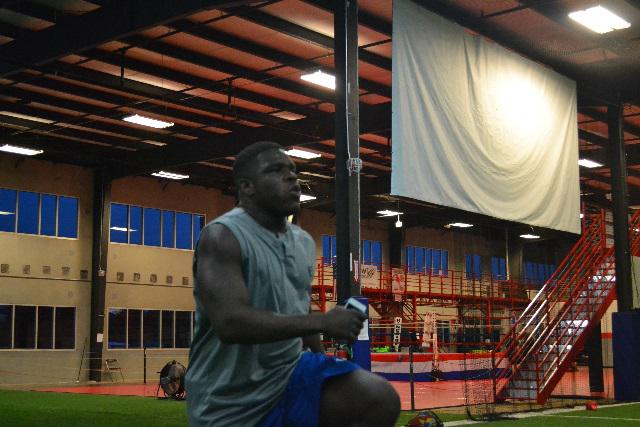 Indianapolis Colts running back and five-time Pro Bowler Frank Gore chose SPARTA during this past offseason to improve his yardage. Gore spent this spring working with Sport Performance Director Brian Griffits and Levar Johnson's InFocus group in hopes of improving his running game for the fall. Brian and his team had an absolute blast training Gore. Gore's excitement, passion and enthusiasm proved to be infectious. "Gore made sure every rep was his best rep, and was eager to learn not only the movements but also the mechanics" said Sport Performance Coach Mike McClain.
Although Gore trains for competition at the highest level, the foundation and focus on functional movements is the basis for all sport performance programs at SPARTA. During training, SPARTA emphasizes the essence of athletics: working hard and having fun. The culture we have developed in classes demonstrates how fitness can be fun, competitive, and inclusive, which helps kids build a lifestyle of fitness as a stress reliever, not a chore.
Gore was not the only NFL player to train at SPARTA. The Houston Texans recently picked up SPARTA and InFocus alum Wendell Williams. Williams made waves when he broke the 40-yard dash record with a 4.19 second time at a regional NFL scouting combine. Like Gore and all other SPARTA athletes, Williams' training focused on functional movement and identifying stability and mobility issues. Coach McClain said the Williams "always brought the group up, and had great energy and confidence."
At SPARTA we take pride in the fact that our facility and team attracts pro athletes and produces NCAA Division I athletes, but what we are most proud of is the difference we make in the lives of the youth in our community. We are passionate about helping kids who struggle with their sport and want to excel by improving their performance and confidence to help them achieve their goals in sports, school, and life. So, what's it like to train with the NFL? What's it like to train with a team of passionate, excited experts? Come join our sport performance courses and find out!