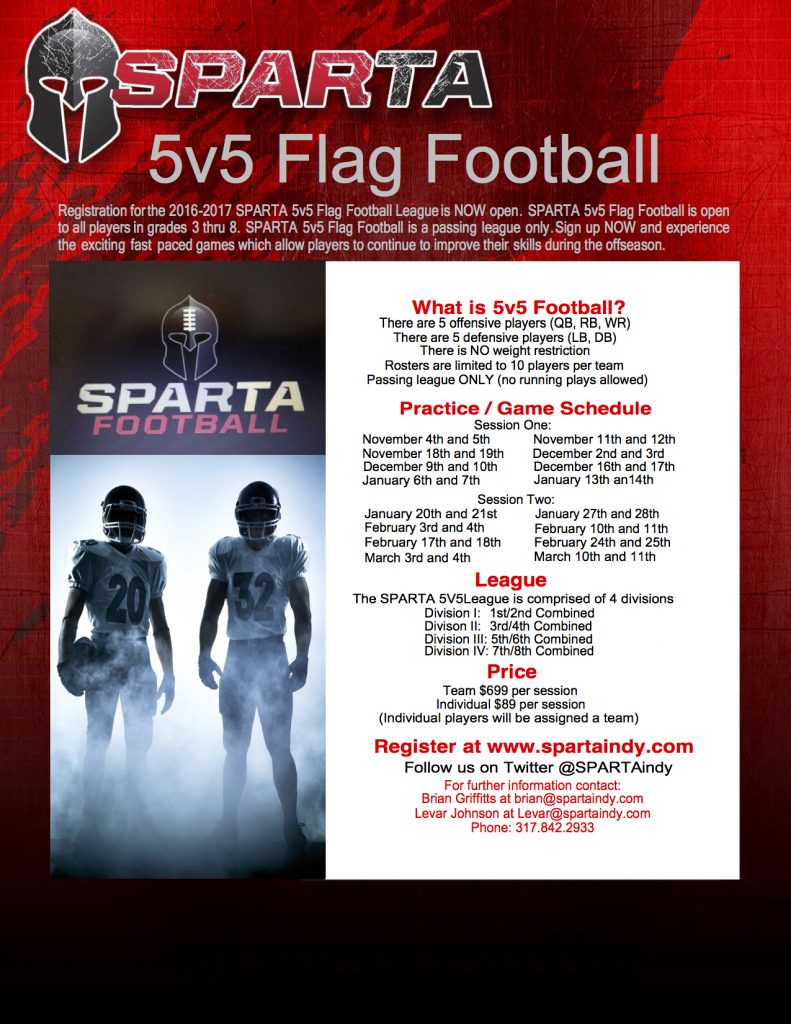 1st – 6th Grade Flag Football
SPARTA and a great place to teach the game to first-time players and sharpen skills for 'return- players'. We run an all passing league and every player gets to touch the ball. Our league is offered multiple times throughout the year and runs for (8) weeks-all games are either on Friday evenings or Saturday afternoons. Teams are small to encourage skill development and fill up fast prior to registration end dates. We are expanding our league this year continuing to run 2 sessions in the winter as well as adding in a Spring session for grades 1-6.
Flag Football Rules:
All passing league- forward passes only, no behind the line of scrimmage passes, no flee flickers
Will play of off QB T's with a 4-second timer, if buzzer goes off before QB releases the ball, play is dead.
Play will start on the 10-yard line. Offense gets 4 downs to make it to the 50-yard line if you reach the 50-yard line you get 4 downs to try and score.
After a TD, you will get 1 down to try for 2 points.
Interceptions can be returned for a TD if you score you get one down for 2 points.
The 50-yard line will be marked with cones, goal line for the endzone will be the yellow soccer line on our field.
Games will consist of (2) 25 minutes halves with a 5-minute halftime, running clock. Make sure you have a designated time keeper each game, someone other than a coach preferably. Make sure they give you a 5 minute, 2 minute, & 1-minute alert.
Only 1 coach on the field at a time
The ball will be dead and marked where the flag is pulled, I expect you as coaches to police this and teach the kids to hold the flag up as soon as he rips it.
If a fumble occurs ball is dead where it lands and offensive retains the ball.
There is NO out of bounds unless a player hits the padded walls, the ball is dead if it hits a net.
Defensively, you can jam a receiver but make sure they're not holding.
Corners must start 3 yards off the ball, LB's 5 yards, and no blitzing
Offensive players are allowed to block after the catch, again no holding.
NO Stiff arms
Kids MUST have mouthpieces and it is recommended they wear cleats on this turf.
Jerseys & Flags will be provided.
Of the utmost importance is that the kids, coaches, & parents have a great experience at SPARTA.
Coaches are expected to abide by the rules above and when in doubt always error on the side of great sportsmanship.
Any coaches found to be "bending" rules will be warned one time, a second will result in the forfeiture of the entire team for the remainder of the season.
This is an opportunity for the kids to learn an aspect of the game they don't normally see.
If you need assistance with position, technique, X's & O's just ask. We appreciate your willingness to volunteer your time and take an important role in a kid's life. Make a positive impact.